International Artist - August/September 1999
Article Passion + Planning = Productivity (page 23 - 29)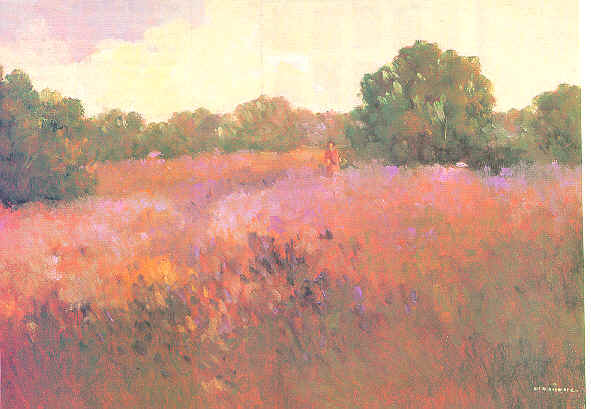 "Color in the Fields", oil on masonite, 12 x 18"
(30 x 46cm), private collection
Once in a while, I totally "dream up" a painting. This was one of those
times, and the scene exists nowhere but in my heart.
If you want to make a living as an artist, it's not enough to be passionate about painting.
As Lori W. Simons found from talking and learning from oil painter
Monique Sakellarios you have to force yourself to
attend to the business aspects as well.
Life has a way of pushing you in certain directions but sometimes you just have to follow your instincts. I'd always had a desire to learn to paint, but before I was married, my daily life was too busy to fit it in. Then, when I was a newlywed, I had time, but not much money for supplies. On our first Valentine's Day, my husband gave me a cheap easel, even cheaper paints, some brushes and canvas boards, and said, "Paint!" At the time, I was obedient (newlyweds sometimes are) and so I did. Pleased with my initial results, I kept painting.
Although I had studied figure drawing, advertising, and art history in college, I had done very little oil painting, so it was fairly new to me.
At that time, the idea of selling hadn't entered my mind, but friends, relatives, and some of my husband's colleagues liked my paintings and wanted to buy them. I decided to exhibit in the local art society's mall show. The response was positive, capped by a commission from a local nursing home for 50 paintings to be delivered in three months' time. I decided to get one painting done every day! Meeting that deadline taught me to be disciplined and to paint quickly.
My first big break came when a well established local artist saw my work and recommended me to a successful gallery where he was exhibiting. I sent slides and was invited by the director to show him some originals. I took 11 with me, the director kept them all, and they sold within a few weeks. By the end of the year, that gallery had sold 83 of my paintings!
My success in one gallery encouraged me to approach another, and it wasn't long before I was in two - one on Cape Cod, the other in Woodstock, Vermont. To my amazement, these galleries were constantly asking me for more work. I was happy to meet the challenge.
Today, even though I'm supplying nearly a dozen galleries, I have to say that I would paint even if I weren't selling. As tong as I can see and hold a brush in my hand, I'd rather be painting than doing anything else, and even when I'm out on errands or on vacation, I never stop thinking about painting. I take photos wherever I go, and view every scene as a possible composition. In my mind, I'm painting nearly every waking hour.
Since a fellow artist mentored me and helped me get into my first gallery, I enjoy helping other artists by sharing my experience.
What follows are some ways of working that I've developed over the years.
The Importance of A Daily Routine
I am not naturally organized; in fact, I'm rather lazy, and if I didn't have a schedule, weekly goals, and an organized bookkeeping system, I'd never be able to supply galleries and clients with the volume of work they expect from me. Over the years, I've learned to arrange my schedule to suit my working habits and personality.
Mornings are my best time for concentration, so I'm usually in my studio by 9:00 am. Once I get started, my passion kicks in. I try to complete my smaller paintings in one sitting. Occasionally, I'll take a break to play with my dog, or drink a cup of tea. This helps me relieve tension and gives me a fresh view of my work. I try not to answer phone calls or get involved in an activity that will totally break my concentration.
At about 1:00 pm, I clean my brushes and have lunch. I use my afternoons to order supplies, update mailing lists, ship paintings, and make business calls. I rarely paint in the evenings.
A Record Keeping System
Because I paint hundreds of oil paintings and ship most of them to various galleries, I've devised a system to keep track of them, where they're located, which have sold, when, and to whom. In the past, a loose-leaf notebook was sufficient. Only recently have I begun to enter this data on computer.
Here's how it works: each completed painting is assigned a title and a number. The number contains information about when the painting was completed and the gallery it's going to. The designation "PG115-98-215," for example, tells me that this painting was shipped to the Powers Gallery. It's the 115th painting they've received; the painting was created in 1998 and is the 215th painting of that year. When I receive payment from the gallery, I enter the date I received it and the amount of the payment. For direct sales, I add the buy's name and address. At year's end, I know how many paintings I've completed, and the number each gallery has sold. This makes it easy to calculate the number of paintings each gallery will probably need in the coming year.
Things I've Learned in This Business
My experiences as an artist and in the business of art have taught me much. Here are some of my observations:
Loneliness is part of our profession. Productive artists spend a lot of time alone in the studio. I treat my workday as though I were commuting and working for someone else. Rarely will I take time from painting on weekdays to go out with friends - though I do see them on weekends.
Keep abreast of the market. This doesn't mean you have to paint for the market, but do incorporate market savvy into what you love to paint. Know which subject matter, colors and sizes are selling, and which frames are in style.
Broaden your subject matter over time. If you paint the same subjects for 20 years, your collectors will stop buying your work. When you do change, though, do it gradually. Add new colors, new motifs, but don't change drastically. Focus on just a few subjects so that your body of work will be cohesive. Galleries want your work to be recognizable as your work.
When you don't feel like painting is when you must paint. I recommend painting every day. I often produce my best work on days I feel least like painting. Conversely, when I'm too eager to paint, I often neglect the planning, and end up disappointed with the result.
Don't skimp on framing. Frames communicate to collectors the value YOU put on your work. Buy the best you can afford, and choose frames that go together aesthetically.
A grouping of your paintings on a gallery wall or at an outdoor show should look like a unit of work, not a patchwork quilt.
Have professional slides made of your best work. You never know what opportunities you'll have in the future, or (like this), when you'll need a portfolio.
Consider outdoor shows. They're a good place to sell paintings, because you get feedback from the public. These shows get you out of the studio and with fellow artists. Walk around and see how others have set up their displays and what price ranges and quality of work are selling. Outdoor shows, however, do not replace galleries, at least not for me. Gallery representation adds credibility to your work.
Build up your resume by entering national juried competitions. Gallery dealers and collectors will take you more seriously once you've received national awards. Equally important, these same awards will also help you to believe in yourself.
Paintings Shown in this Article
Monique's Palette Discussed in This Article
Painting Lesson Discussed in This Article
Second Opinion About The Artist
Published Articles Listing